VS90
VISION SCREENER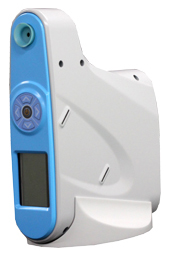 1. One key operation for test result
2. One measurement detect multiple eye problems, including myopia, hyperopia, astigmatism, and anisometropia.
3. Accurate results in less than 5 seconds.
4. Intelligent flashing light and sound guidance requires minimum patients' cooperation. It is especially suitable for young children.
5. It can be widely used in vision screening for children, adults, and seniors, even patients wearing glasses or contact lenses.
6. The advanced design concept conbines ergonomics and aesthetic. Easy and comfortable operation is achieved with a retractable hand strap.
Technical data

Sphere   range

Myopia   Mode:-9.00D  ~ +2.50D(Interval:0.25D)

Normal   Mode:-6.00D  ~ +8.00D(Interval:0.25D)

Sphere   tolerance

±0.50D or ±20%(whichever is greater)

Cylinder   range

-3.00D ~ 0.00D(Interval:0.25D)

Cylinder   tolerance

±0.50D or ±20%(whichever is greater)

Axis

1°~ 180°(Interval:1°)

Axis   tolerance

±5°

Working   distance

Myopia   Mode:28cm

Normal   Mode /Infant mode:35cm

Other data

Dimensions

200mm(length)×80mm(width)×270mm(height)

Weight

0.9kg

Power

100-220V/50-60HZ/1.5A

Charge time

≤2   hours

Battery life

≤4   hours

Printer

Portable thermal printer